If you are a content creator, educator, or marketing professional, looking for a modern and secure video hosting with all the tools you need to keep your videos secure from any third-party download manager like IDM or browser extension, you've come to the right place. Today's topic also covers how to host your videos outside of YouTube or Vimeo.
VadooTV! A proper solution is to host your videos on your own and keep them safe from piracy and copyright infringement.
A video hosting platform or service is an important component of modern marketing strategy. Video hosting allows you to post and save your videos on a website run by a third party. But most video hosting solutions are very sophisticated and have too many boundaries. Now there are several reasons why you might switch from free YouTube to paid video hosting.
The most popular one is that you want to have total control over your content, how the player looks, how advertisements involve, how to provide maximum security and obviously to avoid unwanted actions by canceling your account or piracy issues caused by YouTube or Vimeo. So, from now on you can host your videos on your own with maximum security and high-quality resolution.
In this article, we will cover everything about VadooTV, including its essential features, how to host, how to secure video through VadooTV's encryption technology, why it's the best option for your if you want to start e-learning business and how to get VadooTV lifetime deal from appsumo and so on.
Let's dive in to learn more.
What is VadooTv?
VadooTv is a video hosting and marketing platform where you can host, record and manage high-quality and ad-free videos in a customizable video player on a secured cloud and deliver through high-speed CDNs.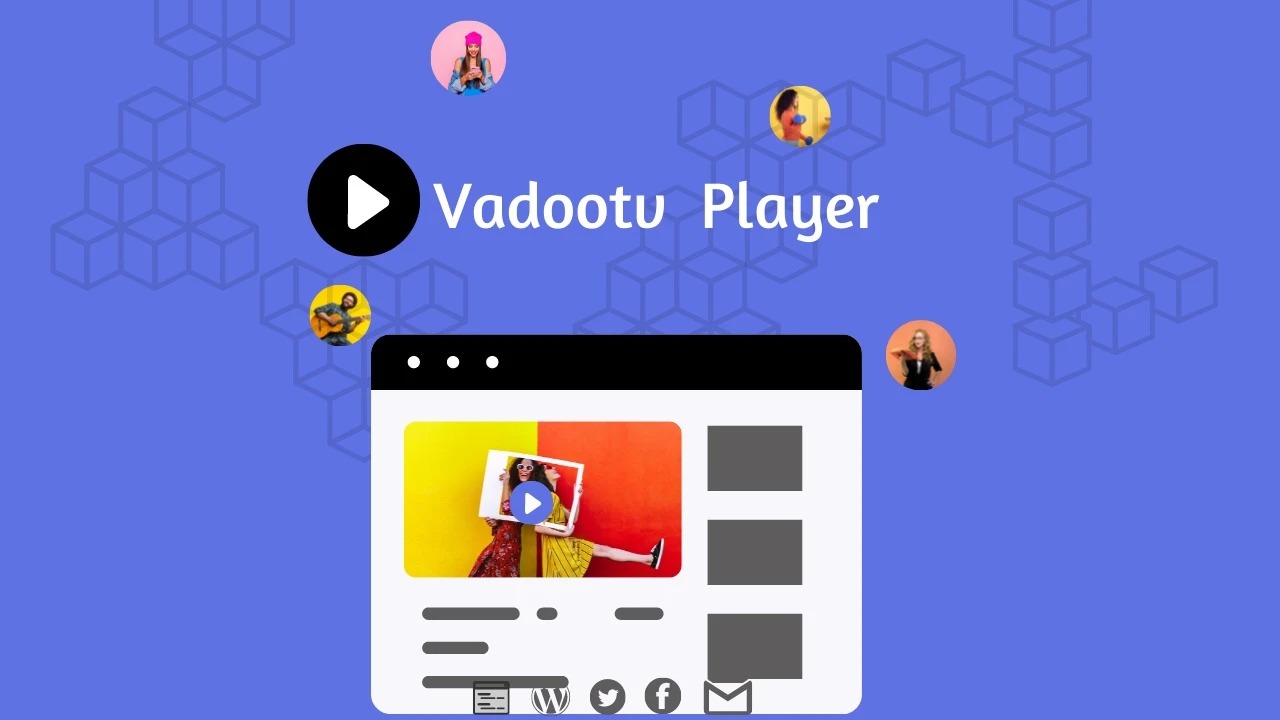 Here you can record and host full HD videos without any interruption of advertisements, encode to secure from the copyright, market those by various quizzes, polls, form and other CTAs and distribute using their server.
Also, the most unique feature is VadooTV's security system. It provides maximum security of your video using HLS encryption, DRM and password protection. So, your videos are safe from piracy and cannot be downloaded through any kind of download manager or plugins.
There are some amazing features they are offering. Let's know about the details.
VadooTV Key Features and Tutorial
First of all we'll see how to actually upload a video in VadooTV and gradually we'll see step by step how to host, manage and distribute them for marketing.
Step 1: (Upload a video)
Click on the 'Add Project'> 'Add audio/video file' option on the top right then it will pop up a box. Now you will get a few different options to upload your videos. You can upload your video directly by clicking 'Upload New' which is super easy.
Next, you will see 'Import videos' where you can import from YouTube, Google Drive, Vimeo, Amazon s3, Publitio, or any other type of URL that you can actually download videos from. For example, choose YouTube, copy the video URL, and Import, that's it. And finally clicking on 'Request Video' enables you to record a video.
Step 2: (Share and Embed)
After clicking a video you will notice an option 'Share and Embed' on the top right and what this is going to allow you to do is share this link with other people through email, social media, Bubble, Popover etc, and what it's done is actually create an entire landing page hosting this video.
Let's click on 'Go to page' and see what it's look like.
So, let's go ahead and start editing it to see what we can actually do.
Step 3: (Video Player)
There are several functions available here on how your viewers will see the video player and how to make it more audience engaged.
Theme color: You can choose the theme color matching with your brand or logo.
Play icon: Plenty of options to choose from various kinds of play icon buttons.
Remove Watermark: A software watermark at the bottom can spoil the overall beauty of your video player. VadooTV enables you to remove the watermark if you want.
Thumbnail: You can add an eye-catchy thumbnail to get more clicks and views. Also, VadooTV enables gif thumbnail which will show a short glimpse of entire video.
Chapters: You can add chapters, create chapter links and markers, navigation, etc.
Display Control: There are several options here like if you want to activate autoplay or play in a loop, control speed, quality, display time, start from where it pause, skip forward or backward etc to give your audience the best experience of streaming.
Step 4 (Landing Page)
In this step, we will see the video player layout, text, color, theme, etc.
Title, description, and background edit: You can add the video title, corresponding description and background.
Remove logo: You can remove VadooTv logo just in case you don't like to advertise VadooTV. Simply turn it off anytime.
Layout and Theme: You can change the layout of how your text, heading and video player will be organized. There are different themes pure, dawn, pale, dusk, daisy etc. Choose any one that matches your brand and tutorial.
Views and share: You can check the views and also hide it anytime if you want. Turn on/off share options according to your marketing strategy.
Step 5 (Marketing Tool)
There are some amazing tools available in VadooTV to brand and promote your videos and keep your audiences engaged throughout the entire video.
Add New CTA: This is actually a very interesting feature. This will make a popup notification or a link in the middle of your video. Stays for a while and if your viewers got interested they will click on that and redirect to another landing page. Simply click on 'add new cta' then set the title, url, text color, starting and ending time and position.
Let's create a CTA of Plagiarism Checker for Free starting in 10second. The final view will be like this
Set a Poll: In the same way you can create a poll between two or more options to increase audience engagement. Select questions, options, and timing. The Video Funnel feature is almost the same. The final look will be like this.
Lead Capture: Lead capture is important for marketing and promotion. Turning lead capture on can gather a lot of contact information, emails, etc.
That's it. You are ready to go!
How VadooTv secure videos
Security is the most unique about VadooTV. VadooTV ensures zero tolerance of any kind of piracy or copywriting issue. It provides maximum security by using latest protection technologies like HLS encryption and password protection (Sharing a private link or password) and at the same no reduction in video quality. If you enable HLS extension to any video, VadooTv encrypted the video format and that specific video cannot be downloaded through any kind of plugin manager or download manager such as IDM (Internet Download Manager). VadooTv disallows unauthorized domains to embed video, encode and distribute using their servers to 180+ countries.
If you want to protect any video from piracy, you have to enable Encryption from the customization section of VadooTV
Get VadooTV Lifetime Deal for Just $49
Additional Features
Video Hosting: Host, manage and share your ad-free, high-quality videos with unlimited storage or VadooTv cloud.
Video Player: You can customize your video player with different layout, themes, marketing tools etc.
Video Landing page: Adding CTAs(shown above) can help to redirect your audience to another landing page. You can share these though emails, ads or a message.
Screen recorder: VadooTV can be used as a screen recorder also. Simply record, edit and save locally or VadooTv cloud.
Podcast Hosting: Create podcast pages, and channels, and generate RSS feed using VadooTV podcast hosting feature.
Video Compressor: Compress, combine, merge, or split video files like MP4, AVI, and MOV without losing any quality. Share or save locally or VadooTV cloud.
Subtitle adder: Simply select and upload a subtitle SRT file will add a subtitle to your video and will grab the attention of your audience more.
Why Should You Use VadooTv?
If you looking for a powerful video hosting platform that will offer to host high-quality, ad-free videos and give you maximum security like industry-standard security, password protection or HLS encryption, VadooTV has no alternative.
You can record, upload and manage your videos with different layout and themes, promote them using next-level marketing tools, and encode and distribute them across 150+ countries without any possibilities of piracy or copywriter issues.
Who is VadooTV aimed at?
Online educators, trainers, course content creators who want to make and host content, tutorials, course videos etc.
Sales and marketing professionals who are looking for a video hosting platform that enables marketing tools and high security.
Content creators who are looking for a hosting platform that offers ad free-high quality video experiences for their audience.
VadooTV Pricing Plan:
Free: Free version is always available. It enables 10 video/audio files with maximum 1 GB storage. Fully customizable player, easy embedding and sharing, advanced video analytics, video testimonials and bubbles, integrations and interactive tools are available in all the packs. For a high-security system, you have to pay.
Starter: Starter pack enables all the common features including unlimited video/audio files with 50GB of storage. It also offers unbranded video player. Your videos will be protected by HLS encryption and domain security. Starter pack comes with $10 monthly.
Pro: Pro pack starts with $29 per month and enables all the common features including unlimited video/audio files with a huge 100GB storage. Your videos will be protected by HLS encryption and domain security. Unbranded video player and VadooTv branding removal is included in this pack.
Advance: Advance pack starts with $39 per month and enables all the common features including unlimited video/audio files with a huge 200GB storage. Your videos will be protected by HLS encryption and domain security. Unbranded video player, CNAME, and VadooTv branding removal is included in this pack.
VadooTv AppSumo Lifetime Deal
The exciting piece of news for you that VadooTV is now offering a lifetime deal on Appsumo.
If you've never heard of Apsumo before, you can read my article on Appsumo Deals for more details, as well as to find their most popular deals for this month.
And basically what happens with Apsumo's Lifetime Deal is that the features VadooTV offers on their regular pricing plans are all the features they offer for a lifetime at a very reasonable price.
And we've already seen in VadooTV's pricing plan, which starts at $10 per month for the Starter plan and goes up to $39 per month for the Advance Plan
But with the appsumo lifetime deal, you can grab VadooTV with all of its premium features for lifetime by just paying a one-time fee of $49.Which basically costs $400 but Appsumo offers you only $49.
Sounds good right?
Yeah, VadooTV lifetime deal starts from $49 and you will get Unlimited videos, Audios, Unlimited Bandwidth, Customizable audio player,Unlimited domain security, Podcast hosting, HLS encryption, Video page and channels, if you buy the Single Code/1 Licence Tier from Appsumo.
Excited to know more about the VadooTV lifetime deal?
Simply click here to check the full list of features and services that VadooTV is offering on appsumo lifetime deals.
NB: It is better to inform you that these deals are usually available on Appsumo for a few weeks. So don't wait too long. If you are really interested in using it or believe that VadooTV lifetime deal would fulfill your needs, try to grab it now without further delay..
And the super benefit of the Appsumo deal is that you will get a 60-day money-back guarantee from Appsumo (no matter the reason) if you want to cancel the deal plan.
Enjoy an Extra 10% OFF VadooTV Lifetime Deal On Appsumo
To receive an additional 10% off on VadooTV Lifetime Deal from Appsumo, simply follow these instructions.
First, you need to visit the " VadooTV Lifetime Deal page" on Appsumo for more information.
Just wait for a moment. A discount popup should show after a few seconds.
Now, Enter your email to receive the exclusive discount code and click to "UNLOCK MY10%".
Continue to check the same email inbox and finally get 10% OFF .
This offer is only available to Appsumo new users who haven't signed up before.
Hey! We've got some really exciting news. Become an Appsumo Plus member and get 10% OFF on every purchase with this exclusive deal from Appsumo Plus! This can add up to significant savings, especially if you are an entrepreneur who uses a lot of software products
So if you're looking for a way to save on your next Appsumo purchase, becoming a Plus member is a great option. Thanks for considering it!
VadooTv Alternatives:
Vimeo: What makes VadooTv more advanced than Vimeo is the storage. VadooTv offers 100GB whereas Vimeo offers only 20GB per week. Pricing plan is also higher than VadooTv in comparison with the service. VadooTv has lead generation and encryption features which are unavailable in Vimeo.
Wistia: Starter pack pricing plan seems cheaper than VadooTV but in long run it won't work. Because same as Vimeo, VadooTv offers more storage than Wistia, more specifically double. Video landing page feature is unavailable in Wistia.
Vidyard: Vidyard is almost similar like Wistia plans. Slightly cheaper but limited in security backup, lead generation, landing page, encryption feautures in comparison with VadooTv.
YouTube: Free things always attract people but the difference comes with quality and security. Youtube doesn't provide ad-free videos like VadooTv.Also Lead generation and CTAs are not available on YouTube. Video encryption, bubbles, and testimonials also absent.
Discord: Discord has a limitation in reach and monetization unlike VadooTv. Custom domain, white label and SEO traffic is also unavailable in Discord.
Facebook group: Streamable fee is free but no lead generation, CTAs or encryption available in facebook group.
Final Verdict; Is VadooTV worth it?
Is it worth it actually? A big yes!
VadooTv is undoubtedly a powerful video hosting and marketing platform. Extremely user-friendly VadooTv takes out all the complexity of video hosting and provides a seamless streaming experience. It enables industry like security to export high-quality videos without and fear of piracy or copyright.
You can organize your video playlist, customize the layout and theme, sync them to your social media accounts and use SEO and marketing tools to improve your site's ranking.
It offers maximum service in comparison with its alternatives and as per the price. So, from now on, no ad interruption, no privacy, no video quality degradation, just a smooth, high definition video streaming experience.