Are you looking to grow your social media audience? Or perhaps you want your product to reach more people on all kinds of social media platforms?
No matter what your goal is, growing on social media is one hard process. You need to constantly create quality content, post on the best times on all platforms, engage with your audience, and track your growth and performance.
If you're a small business owner, managing all your socials can get overwhelming.
But what if you had a tool that can handle all your social media management tasks?
That is what Radaar was made for. In this article, we take a look at Radaar, its essential features, how to handle multiple social media profiles with radaar and how to grab radaar appsumo lifetime deal from appsumo
Let's get started.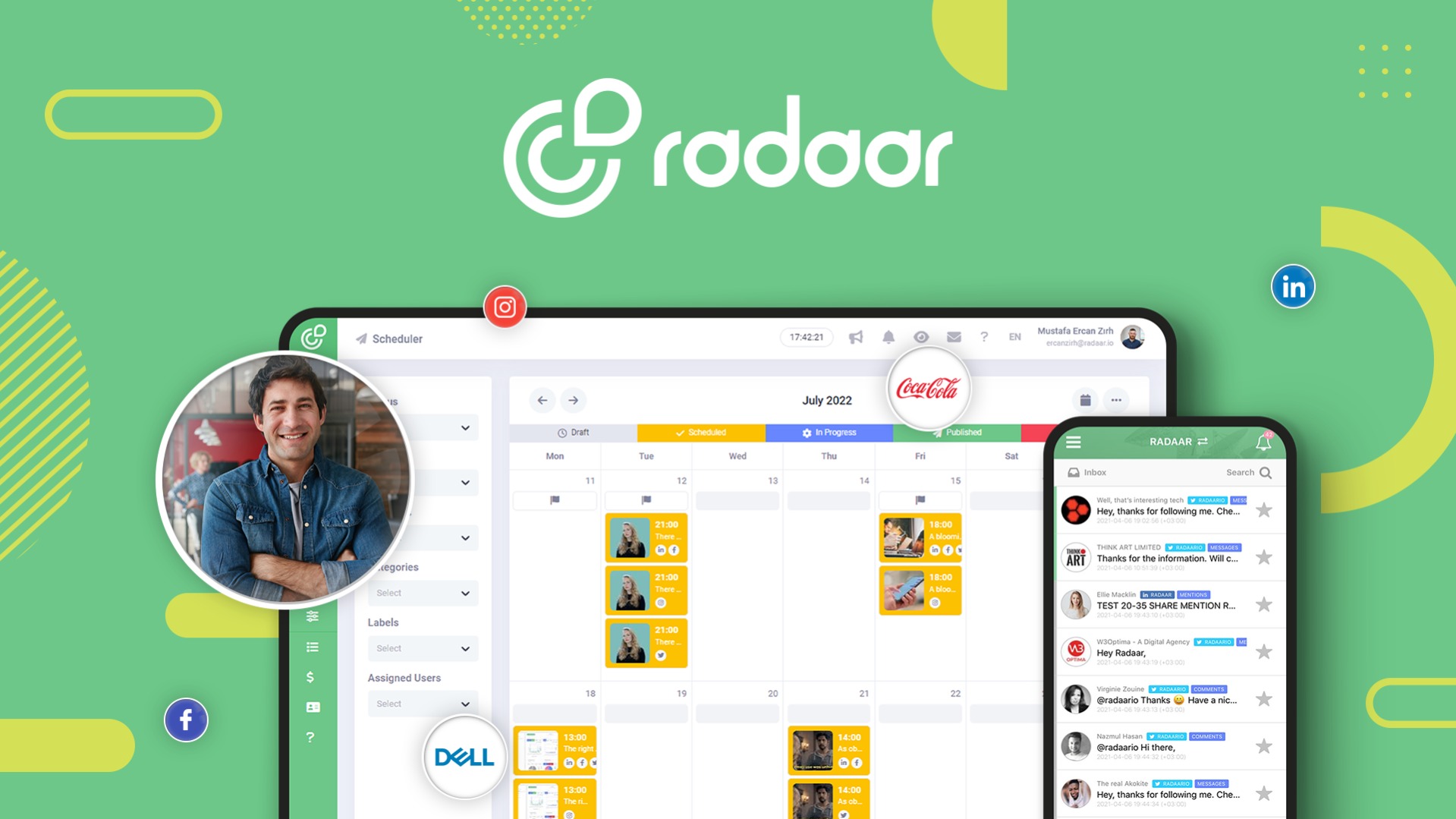 Radaar is an all-in-one tool for managing all your social profiles from one place. With Radaar, you can automate your content marketing on all your social accounts.
But that's not all.
You can have better control of your social media campaigns by analyzing, engaging, and social monitoring through Radaar. We'll break down each of these features in a bit so stay with us.
Best Features of Radaar
You've got an overview of what it means to have a social media management tool like Radaar. But what features does it really offer that makes it worth it?
Let's go through each.
Social Inbox
Get all your messages of all your social accounts in one inbox, in an organized way. This saves the time you need to visit your individual accounts to check messages.
Radaar's collaborative inbox lets you reply, like, delete, or hide the messages. There are a bunch of filters on the left side that enable you to quickly find the messages that matter to you most.
You can use message templates for fast replies, translate messages to your language, and even pick giveaway winners from this inbox.
Assign messages to your team members for better teamwork.
Scheduler
Radaar explicitly mentions that it's "Not Just Another Scheduling Tool". But that doesn't mean it doesn't have a scheduling tool. After all, that's the primary purpose of an SMM tool, to begin with.
You can publish and schedule your social content on Radaar in 3 simple steps.
Plan and create your content draft(Text, images, videos)
Get your content reviewed and approved by your clients
Schedule your content to get published on all platforms at just the time
You also get some integrations, a photo editor, Stock library, content score, and more features that boost your productivity.
Social Monitoring
This is indeed a unique feature Radaar is offering. Social Monitoring lets you get in the middle of your customers' discussions and better understand the current industry trend.
You can get your hands on relevant keywords, your competitors' strategies, and trends and act on them before anyone else. This is especially important for tailoring your content strategy.
If you can give your audience what they want, you'll get an upper hand over others which in return boosts your social growth.
Interact with your customers' experiences, discover the actionable data, and predict consumer needs with this fantastic tool.
Landing Pages
Build beautiful landing pages that convert your visitors into customers. No coding knowledge is needed.
Radaar's Landing Pages builder lets you create simple landing pages to send your target audience to. You can create one from scratch or use their templates.
You can track your audience metrics on your landing pages. This way, you can easily customize your pages for a better user experience.
Add your custom domain to your landing pages for better branding.
The Style Manager and the intuitive editor make it straightforward to create stunning pages in a short time, even if you're not a designer.
Task Manager
Manage your tasks like a pro with Radaar's Task Manager.
Radaar allows you to create Kanban boards(a popular project management framework) to organize and manage all your tasks.
Visually manage your project goals with Kanban boards, lists, and cards. You can invite your team members so they can also collaborate. This allows everyone to know what tasks they have in hand.
Create as many boards as you need so that you can organize all your projects with ease.
Collaboration
Collaboration gets projects done faster, with less effort, and in a fun way. Radaar makes that possible with its collaboration feature.
Invite your team members and work together on your social media projects.
Give access to features your team members will need in order to get the job done. You can also safely share your passwords with them thanks to Radaar.
Assign tasks to others and analyze individual performance. Members can reply to messages, create content, or review the ones you create. You can also invite your clients as guests so they can approve your posts before you publish them.
Analytics
What decides your success on social platforms? Your analytics!
Create stunning reports of your social media metrics. Analyze the performance of your social media content to get a grasp of your successful campaigns.
Create dashboards and add pre-built widgets that allow you to visualize your data and trends.
You can set a custom data range for perfect calculation and analysis of each section of your social media marketing strategy. Getting in-depth insights from your customer behavior is key to growth on social media.
Share your reports with your clients in a few clicks.
Who is Radaar For?
Radar is best suited for Social Media Marketers, influencers, and SMM agencies.
If you own a startup or small business, Radaar can help you leverage the vast amount of social platform users to reach more people.
So if you need to focus on your Social Media growth, Radaar is definitely for you.
Radaar Pricing
Radaar is quite affordable when it comes to SMM platforms. Currently, Radaar offers 3 pricing plans. Here's an overview of all 3 plans
Basic
Cost: $9.99/month
With the Basic plan, you're getting 3 social profiles, 90 posts, and 1 user.
Premium
Cost: $19.99/month
The Premium plan offers 6 social profiles, Unlimited posts, and 5 users. On top of that, you get Social Inbox and Analytics.
You can get more social profiles and users at a customized cost. For example, each new social profile costs $3 and each new user costs $2.
Professional
Cost: $59.99/month
The Premium plan provides 12 social profiles, Unlimited posts, and 10 users. You also get 3 Monitoring Queries.
Similar to the Premium plan, you can buy more social profiles and users with extra money.
The annual pricing plan gives you a solid 20% discount on all plans.
Start your 14-day free trial on Radaar today.
Now, if you think that their standard pricing is out of your budget or is too expensive, no need to worry because Radaar lifetime deal is now available on appsumo. Scroll down below to know more about the Radaar appsumo lifetime deal
Radaar Appsumo Lifetime Deal
The exciting piece of news for you that Radaar is now offering a lifetime deal on Appsumo.
If you've never heard of Apsumo before, you can read my article on Appsumo Deals for more details, as well as to find their most popular deals for this month.
And basically what happens with Apsumo's Lifetime Deal is that the features Radaar offers on their regular pricing plans are all the features they offer for a lifetime at a very reasonable price.
And we've already seen in Radaar's pricing plan, which starts at $9.99/month for the Basic plan and goes up to $59.99/month for the Professional package.
But with the appsumo lifetime deal, you can grab Radaar with all of its premium features for lifetime by just paying a one-time fee of $59.
Sounds good right?
Yeah, Radaar lifetime deal starts from $59 and you will get 1 subscription, 12 social media profiles, unlimited posts, unlimited reports, 3 monitoring queries,password manager, unlimited team members, task manager and all existing and upcoming features, if you buy the Single Code/1 Licence Tier from Appsumo.
Excited to know more about the Radaar lifetime deal?
Click here to check the full list of features and the number of Tiers that Radaar is offering on appsumo lifetime deals.
NB: It is better to inform you that these deals are usually available on Appsumo for a few weeks. So don't wait too long. If you are really interested in using it or believe that Radaar lifetime deal would fulfill your needs, try to grab it now without further delay..
And the super benefit of the Appsumo deal is that you will get a 60-day money-back guarantee from Appsumo (no matter the reason) if you want to cancel the deal plan.
Enjoy an Extra 10% OFF Radaar Lifetime Deal On Appsumo
To receive an additional 10% off on Radaar Lifetime Deal from Appsumo, simply follow these instructions.
First, you need to visit the "Radaar Lifetime Deal page" on Appsumo for more information.
Just wait for a moment. A discount popup should show after a few seconds.
Now, Enter your email to receive the exclusive discount code and click to "UNLOCK MY10%".
Continue to check the same email inbox and finally get 10% OFF .
This offer is only available to Appsumo new users who haven't signed up before.
Hey! We've got some really exciting news. Become an Appsumo Plus member and get 10% OFF on every purchase with this exclusive deal from Appsumo Plus! This can add up to significant savings, especially if you are an entrepreneur who uses a lot of software products
So if you're looking for a way to save on your next Appsumo purchase, becoming a Plus member is a great option. Thanks for considering it!
Final Thoughts
Out of so many Social Media Management tools out there today, Radaar has really created a big impact with its rich features. The fact that you can control your whole social media workflow from one dashboard makes Radaar a winner.
What we liked the most about Radaar is that you don't only get to create posts, you can make them better thanks to Canva and Crello integration, tagging, photo editor, stock library, and hashtag manager among other features.
The batch processing feature and password manager are other noteworthy features that many users love.
It's exciting to know that the team behind Radaar is adding more and more features in the upcoming days to better this already awesome app. You can follow their roadmap here and add your own ideas.
If you'd like to take your Social Media Marketing and Management to the next level, then Radaar is a must-have. Grab Radaar today and grow your social following and brand.