Do you have a killer blog and want to start a YouTube podcast?
Or planning to create audiobook or even a promotional advertisement? Then you are going to love Play.ht.
There are a number of open-source speech synthesizer software that allows their users to tune in to their on-screen text can be saved as a WAV, MP3, MP4, or WMA file. For example TexVoz, Read2Me, Lovo, Speakabo, and so on. But often subscribers complain about missing files or being corrupted by malware/viruses.
That's why today I would like to discuss one of the best online text to speech converter tools Play.ht where you can create stunning natural-sounding AI audios within 3 clicks. Copy-paste your text, choose your accent, and Download after generating.
In this article, we will cover all you need to know about Play.ht, including its essential features, how to create stunning natural-sounding AI audios within 3 clicks, why it's the best option for your if you want to start youtubing and podcasting and how to get Play.ht lifetime deal from appsumo and so on.
Amazing, right? Let's learn more.
Play.ht is an AI voice generator that is basically a text-to-speech synthesis platform. It is an online tool that lets you instantly convert text to high-quality audio, voiceover, and narrative audio.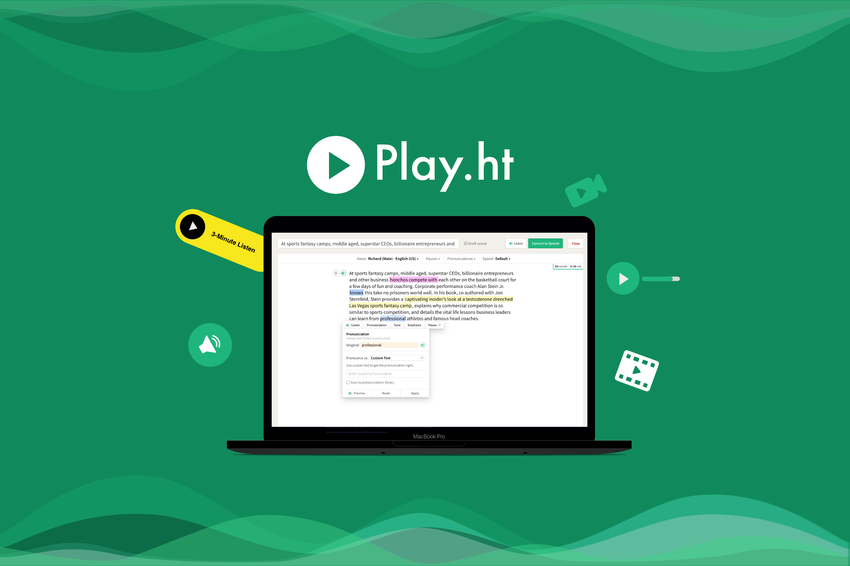 It contains 570+ realistic AI voices in more than 60 languages with worldwide accents. Not those "To-day-we'll-be-talk-ing-a-bout-" type boring robotic voices. Here voices are controlled by machine learning to sound natural.
For a more smooth listening experience, you can even edit the voices on your own. Your podcasting journey will come one step closer with this handy tool.
Key features of Play.ht
832 AI Voices, 132 Languages:
It has a huge library of 832 high-quality human-like voices of male, female and kids' and still growing. You can get access of 132 languages with various accents .In addition, you can add multiple voices for a real time conversation-like experience.
Customize your area of interest:
Play.ht offers you a variety of fields- gaming, animation, voice apps, and advertising you want to customize according to your interest. If you are trying to make an advertisement choose promo or simply choose podcast if you want to make a podcasting video.
Set Custom Pauses:
You can set pauses or time durations to emphasize a word or tone of voice. You can also customize punctuation marks' time duration according to your preference. So, there is no limit to what you can do. You just have to set the features right.
Set Voice Tone:
It ensures your best possible experience on AI professional voice and tones.You can set your voice tones as per your taste simply by changing the voice's attributes. You can emphasize a particular word or sentence by setting the volume, rate and pitch.
Audio Analytics:
This is the cool feature of Play.ht where you can track listens, shares, downloads, and subscribers of your audio widgets. You can set the duration and keep updated about your new subscription and growth.
Podcast Hosting:
Play.ht provides you the RSS feed of your audio files and which you can distribute to major online podcasting platforms such as iTunes, Google Play, and Spotify. Simply set the title, description, categories and relative information. You can purchase a combined account.It can manage multiple accounts.
Customize Audio Players:
You can change the color scheme, and configuration of the audio player according to your website or channel. You can set the background color, text color, border color, etc. Get dazzling audio with a colorful matching background created in minutes.
WordPress Plugin:
Using Play.ht extension, you can easily add high quality audio straight to your WordPress articles, blogs and posts. You just have to download and install the plugin to get started.
Chrome Extension for Medium:
Chrome extensions enable you to add or remove audio from your Medium stories. To get started, download and install the extension.
JS Code Snippet:
If you prefer adding automatic embed audio into your content blog, Play.ht enables that too.
First, select and customize the audio player you want to set on your article pages
Then paste the given code snippet into your blog. Simple as that.
Export Audio
Play.ht lets you export audio file in .mp3 and .wav both with different sample rates.
Manage All Your Files Online
Play.ht has an easy to use dashboard that lets you manage, upload, and delete your draft audio files. You can keep track from this library.
Why should you Use Play.ht?
Even though there is a lot of software like Play.ht available online, It is the most user-friendly and popular.
Your written content might already got some praise from the internet. But you or your co-worker are not too confident to give a voiceover. Let alone those technical setup hassles, recording, and editing skills.
If you want to skip all these kinds of stuff and head straight for high-quality human-like AI audio then you already know the amazing features of Play.ht. You don't need to buy $100 microphone or noise cancelling sound equalizers for high quality voiceovers.
We are way too ahead of these. You can now download, embed, or distribute your audio in high-quality MP3 or WAV formats in just 3 clicks.
Play.ht converts text to speech for next level podcasting, customer support, background voiceover, audio storybook, animation, e-learning, travel vlogging, online tutoring, presentation using available 132 languages and various accents.
No worries about any missing files or being corrupted by malware/viruses like the other existing text-to-speech voice converter software.
Who Can Benefit From Play.ht or Benefits of Play.ht?
It helps a lot the newbie podcasters who are little shy to give their own voice.Or that little teenage on his/her first try to create an audiobook. Works well for video and content creators who looks for a standard background voiceover for their new blog.
Equally beneficial to that online educator who wants to make educational animation videos or cartoons for his students. Even the bloggers and marketers looking to transform written content into voiceover advertisements.
So, what's your interest?
Play.ht Pricing
The free version of Play.ht is always available which lets you to use 600 words with standard voices and 3 downloads. Now let's take a look if the paid version are actually worth it or not.
It offers four different price plans. It should be noted that premium voices are not available in the personal plan which starts from $14.25/month. It includes all the common features Standard voices, unlimited previews, and downloads, Multi-voice feature, embedded audio players, etc.
The professional plan starts from $29.25 monthly which includes premium voices and commercial use.
Growth and business plans are top to bottom professional and offer unlimited features starting from $74.25 per month.
For more flexibility, Play.ht offers a flat 20% discount to students, educators, and non-profit organizations.
Now, if you think that their standard pricing is out of your budget or is too expensive, no need to worry because Play.ht lifetime deal is now available on appsumo. Scroll down below to know more about the Play.ht appsumo lifetime deal
Play.ht AppSumo Lifetime Deal
The exciting piece of news for you that Play.ht is now offering a lifetime deal on Appsumo.
If you've never heard of Apsumo before, you can read my article on Appsumo Deals for more details, as well as to find their most popular deals for this month.
And basically what happens with Apsumo's Lifetime Deal is that the features Play.ht offers on their regular pricing plans are all the features they offer for a lifetime at a very reasonable price.
And we've already seen in Play.ht's pricing plan, which starts at $14.25 per month for the Personal package and goes up to $74.25 per month for the Growth package.
But with the appsumo lifetime deal, you can grab Play.ht with all of its premium features for lifetime by just paying a one-time fee of $59.
Sounds good right?
Yeah, Play.ht lifetime deal starts from $79 and you will get Premium voice with unlimited downloads, commercial use, multi-voice feature,embedded audio player, audio analytics, white label audio players, podcasting solution and lead generation , if you buy the Single Code/1 Licence Tier from Appsumo.
There are 3 code/licence tier is available in Play.ht lifetime deal, the More code you stack, the more word limit and features you will get. You can purchase up to 10 tiers for $790.
Excited to know more about the Play.ht lifetime deal?
Click here to check the full list of features and the number of Tiers that Play.ht is offering on appsumo lifetime deals.
NB: It is better to inform you that these deals are usually available on Appsumo for a few weeks. So don't wait too long. If you are really interested in using it or believe that Play.ht lifetime deal would fulfill your needs, try to grab it now without further delay..
And the super benefit of the Appsumo deal is that you will get a 60-day money-back guarantee from Appsumo (no matter the reason) if you want to cancel the deal plan.
Enjoy an Extra 10% OFF Play.ht Lifetime Deal On Appsumo
To receive an additional 10% off on Play.ht Lifetime Deal from Appsumo, simply follow these instructions.
First, you need to visit the "Play.ht Lifetime Deal page" on Appsumo for more information.
Just wait for a moment. A discount popup should show after a few seconds.
Now, Enter your email to receive the exclusive discount code and click to "UNLOCK MY10%".
Continue to check the same email inbox and finally get 10% OFF .
This offer is only available to Appsumo new users who haven't signed up before.
Hey! We've got some really exciting news. Become an Appsumo Plus member and get 10% OFF on every purchase with this exclusive deal from Appsumo Plus! This can add up to significant savings, especially if you are an entrepreneur who uses a lot of software products
So if you're looking for a way to save on your next Appsumo purchase, becoming a Plus member is a great option. Thanks for considering it!
Is Play.ht worth it?
A majority of people watch online content while relaxing exercising, traveling, etc. That's why to stay compatible, try to make sure your content is available to this screen tired 'earpod' generation.
Play.ht provides an inbuilt realistic voice which gives your audience the best possible AI voice hearing experience.
It's easy to use, more convenient for audience engagement and affordable compared to the existing tools. So regardless you are a newbie or professional podcaster, educator or video content creator, this tool will make your content more accessible and stand out.
So, I guess fair enough! Great return on investment. Totally worth it.
Frequently Asked Questions (FAQ):
How do Play.ht subscriptions work?
Play.ht offers a free version where they will let you use 600 words and 3 downloads. You can purchase a subscription (professional or business) when you need more word credit or unlimited features.
Can I use Play.ht for YouTube?
Of course. You can add background voiceover, high-quality audio with your content. YouTube will allow unless the content you upload is original.
How do I cancel my Play.ht subscription?
If you are unsatisfied with any term you can cancel your subscription at any time by logging in and go to cancel your subscription. For further inquiry e-mail support@play.ht or contact +917338614420.
How can I convert my WordPress blog articles to audio?
Simply download and install the WordPress plugin. You can convert your WordPress blog articles and other materials straight to audio using WordPress plugin