Lead Generation is a crucial part of a good marketing plan. Getting consistent quality leads can make or break some businesses.
However, the problem is that getting quality leads can be pretty complicated, time-consuming, and expensive.
You need to search for thousands of websites, find locations, extract data, verify them and finally ensure the quality of the leads. This takes a long time and becomes a barrier to your business growth.
What if you could collect leads blazing fast with only a few clicks? Leads based on business type, location, and other metrics that matter to you? Leads that pass all the quality factors?
Lead Scrape can take care of all of these.
This article goes through everything you need to know about Lead Scrape, its features, and whether you should buy it or not and how to get Leadscrape lifetime deal with an extra discount.
Let's get started!
Lead Scrape is a B2B lead generation software for collecting leads to turn them into customers. Lead Scrape helps you discover leads in any industry and automate your lead generation process.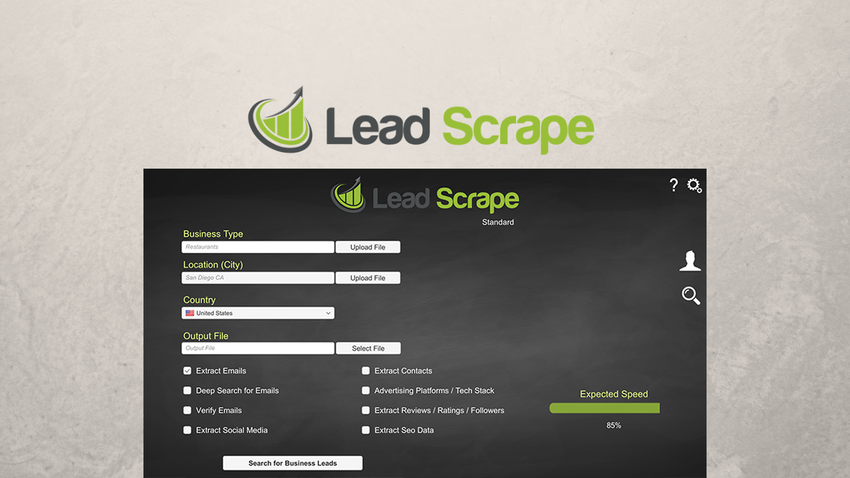 With Lead Scrape, you can get the website, address, phone, emails, contacts, and other company profiles within seconds.
Unlike many Lead Generation tools, Lead Scrape is a downloadable software.
Best Features of Lead Scrape
Now let's quickly dive into all the cool features you get when you buy Lead Scrape.
Business Type Leads
With Lead Scrape, you can collect Leads based on the type of business.
For example, if you're trying to collect leads of Dentists, you can do so by entering the business name or profession name into the Business Type box. This makes it easier to collect leads that matter to you the most.
Lead Scrape has a vast amount of business types on its list so most of the common businesses are included.
Location Based Leads
If you need leads from a specific location only, you can do that as well using the Country and Location(City) filters.
This makes it easier to find local businesses that you can target.
Extract, Deep Search, and Verify Emails
Get your leads' emails in a few seconds with Lead Scrape. When scraping emails, you can also turn on Deep Search and Email Verification. However, that will increase the time you need to get the final result.
Deep searching reveals emails that you wouldn't find otherwise from normal search results. And with the verification, you get to know whether the emails you found are valid or not.
Social Media Extraction
You can also scrape the social media accounts of your leads. This helps you target the right audience for your social media marketing campaigns.
Sometimes it's easier to outreach via social platforms than emails because emails may just end up in the wrong inbox.
Contact Extraction
Do you prefer business contacts over emails and social accounts? You can collect them as well.
You can use the phone numbers to run cold calling campaigns.
Advertising Platforms / Tech Stack Extraction
Find out the platforms businesses are using for advertising purposes. Also learn about the technology, tools, and software a business is powered by. This allows you to laser target your leads so that you can market your products or services well to them.
Reviews / Ratings / Followers Extraction
You found lots of leads but how do you determine the good ones? By checking customer ratings, and employee reviews. You can also check their follower base to know how well they are serving and operating.
You can extract such data at once using Lead Scrape.
SEO Data Extraction
Get the SEO stats of the companies you find using Lead Scrape. See the ups and downs so that you can target their weak points. This makes your marketing a breeze.
Integration With Other Apps
Lead Scrape integrates with many popular and industry-standard tools to make your lead generation process much easier.
Some of the apps Lead Scrape integrates with are Hunter.io, Snov.io, Skrapp.io, NeverBounce, ZeroBounce, MillionVerifier, Semrush, and aHrefs.
Who is Lead Scrape For?
If you're someone who constantly needs new and fresh leads for his business, then Lead Scrape is for you.
Small businesses can use Lead Scrape to find other businesses for selling B2B products.
Marketing agencies are always on the look for new leads and clients to target.
Sales teams can take advantage of Lead Scrape to get leads quickly or automate the process of finding leads.
Lead generation freelancers or freelancers, in general, can find perfect clients through Lead Scrape's massive list.
Lead Scrape Pricing
Lead Scrape has two pricing plans: a Standard Plan and a Business Plan.
Standard Plan
Cost: $97(1-year license)
With the Standard Plan, you get data from 3 sources, Unlimited Projects, 1-year of Free Updates.
Business Plan
Cost: $247(1-year license)
The Business Plan lets you extract data from 7 sources. On top of that, you get Bulk Searches, Review Scores, Advanced SEO Data, and everything in the Standard Plan.
Before you decide to buy Lead Scrape, you can download their Free Trial to test it out. You don't need to put credit card details for the trial which makes it convenient.
Get started with Lead Scrape today and take their free trial.
Lead Scrape Appsumo Lifetime Deal
The exciting piece of news for you that Leadscrape is now offering a lifetime deal on Appsumo.
If you've never heard of Apsumo before, you can read my article on Appsumo Deals for more details, as well as to find their most popular deals for this month.
And basically what happens with Apsumo's Lifetime Deal is that the features Leadscrape offers on their regular pricing plans are all the features they offer for a lifetime at a very reasonable price.
And we've already seen in Leadscrape's pricing plan, which starts at $97 per month for the Standard plan and goes up to $247 per month for the Business plan.
But with the appsumo lifetime deal, you can grab LeadScrape with all of its premium features for lifetime by just paying a one-time fee of $59.
Excited to know more about the LeadScrape lifetime deal?
Click here to check the full list of features and the number of Tiers that LeadScrape is offering on appsumo lifetime deals.
NB: It is better to inform you that these deals are usually available on Appsumo for a few weeks. So don't wait too long. If you are really interested in using it or believe that LeadScrape lifetime deal would fulfill your needs, try to grab it now without further delay..
No worries, appsumo offers 60-day money back guarantee, no matter the reason
Enjoy an Extra 10% OFF LeadScrape Lifetime Deal On Appsumo
To receive an additional 10% off on LeadScrape Lifetime Deal from Appsumo, simply follow these instructions.
First, you need to visit the "LeadScrape Lifetime Deal page" on Appsumo for more information.
Just wait for a moment. A discount popup should show after a few seconds.
Now, Enter your email to receive the exclusive discount code and click to "UNLOCK MY10%".
Continue to check the same email inbox and finally get 10% OFF .
This offer is only available to Appsumo new users who haven't signed up before.
Hey! We've got some really exciting news. Become an Appsumo Plus member and get 10% OFF on every purchase with this exclusive deal from Appsumo Plus! This can add up to significant savings, especially if you are an entrepreneur who uses a lot of software products
So if you're looking for a way to save on your next Appsumo purchase, becoming a Plus member is a great option. Thanks for considering it!
Is Lead Scrape Worth it?
Lead Scrape doesn't put any kind of limit on the number of leads you can scrape or how many searches you can run in a day or month. This alone makes it one of the best lead generation tools in the market.
Lead Scrape is very straightforward to use and beginner-friendly. You select your target market and the location and you get all the data in just a few clicks. Even if you're using this tool for the first time, you won't get stuck anywhere.
The Business Plan provides many data that would take you days or weeks to find manually by yourself. You can also verify the data and filter quality leads thanks to Lead Scrape.
Lead Scrape is a simple yet powerful tool that can take care of your lead generation process. All of which makes it worth buying.
Final Thoughts
Out of so many lead generation tools out there, Lead Scrape stands at the top for its affordable pricing with so many powerful features and accuracy of data.
If quality is more important to you than quantity(as it should be) then Lead Scrape is the tool you need. Supporting over 30 countries, Lead Scrape can be a game changer if you're looking for new leads in those locations.
Getting the latitude and longitude of businesses is something that sets Lead Scrape apart from other tools.
What we liked most about Lead Scrape is the fact that you can integrate it with other tools to make it even better.
So why fear lead generation when Lead Scrape can do that on your behalf? Grab Lead Scrape today and multiply your leads and customers.