Writing SEO optimized, unique, and professional-grade content is too time-consuming, and you have to make a hard effort.
However, using Bramework AI-based content writing tool, you can get the job done efficiently and quickly.
Bramework is a powerful and versatile AI-based content writing tool. The program will automatically convert the keywords into SEO-optimized and unique content.
Bramework comes with a set of exclusive and effective features that will help you create professional-quality content.
Consider utilizing Bramework if you want to optimize your content for search engines. Continue reading this article to learn more about this tool.
What is Bramework?
Bramework is a powerful and versatile tool to help you produce unique and professional-quality content.
It is indeed an AI-based content writing tool that can create SEO-optimized outlines and can generate effective keywords. It can create both blog posts and long-form content for you.
You can also track the ranking of your articles and export them in HTML or PDF format. Bramework article creating tool focuses on long-form content optimized for search results.
The keyword analyzer of this tool will show you terms, trends, and frequently asked questions that people are looking for on the internet. Overall, it is one of the best AI-based content writing tools.
Why should you use Bramework?
Bramework is an effective solution for creating customized content for consumers. We've seen how AI can assist with tasks like keyword research, picture recognition, and content optimization.
It now has the ability to contribute to marketers that are short on time or imagination in producing high-quality content on a large scale.
This isn't about replacing human content writers; instead, it's about using AI's capabilities to supplement their skill set and give them more resources.
This tool saves time, money, and effort by allowing you to produce content at scale. It may come up with ideas for social media postings, blog posts, articles, product descriptions, and other content.
Key Features of Bramework
Bramework AI article creating tool has a set of powerful and functional features. Keyword analyzer, Plagiarism Checker, Image Finder, AI writer, and rewrite are some of them that really impressed me. So, let's take a look at the Key Features of Bramework shortly.
Keyword Analyzer
Bramework makes it easy to find effective keywords for your content or blog posts. Yes! This tool comes with the Keyword Analyzer function to discover powerful keywords. The keyword analyzer function includes an AI engine that analyzes the content and suggests new keywords for you to utilize.
Look at the image. Here I entered "Digital Marketing servicest" as a Focus keyword. You can clearly see that the tools provided me with several data, including Search volume, Competition, as well as keyword trading. So, after you've gathered your keywords, enter them into this tool and let it handle the rest.
AI Writer
You'll be relieved to learn that you're not the only one who struggles with content creation and optimization for search engines.
You may automate the whole procedure, from research to the creation of titles as well as outlines through Bramework. Every piece you write will be free of errors in grammar and spelling.
It may also generate title tags and meta-data and optimize your content.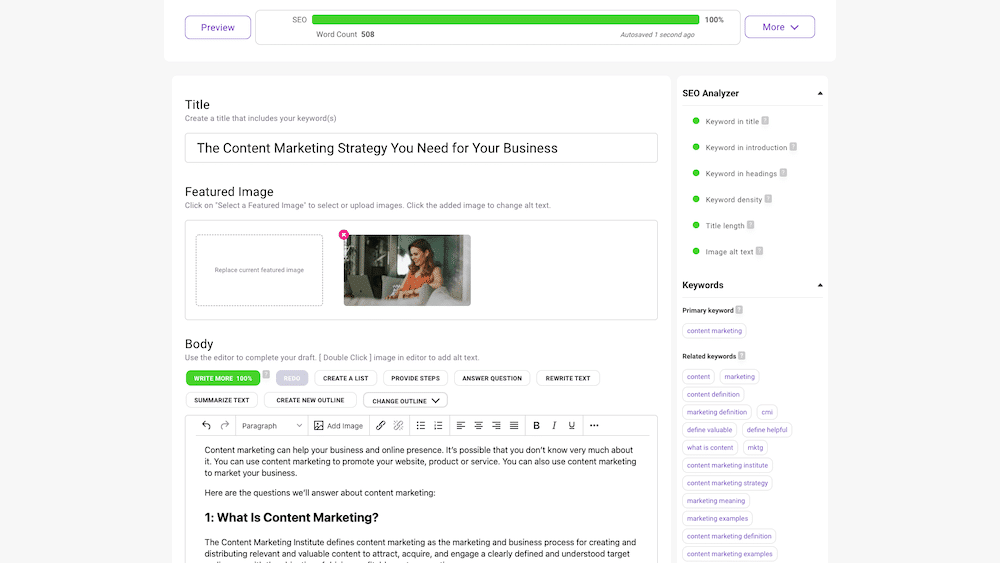 Using the blog post outline generator, you can rapidly build an outline for your blog article.
Once you've entered your topic and clicked "create," you'll be presented with a number of choices for structuring your blog post, including the introduction, the body paragraphs, and the conclusion.
You can write more quickly if you have an AI-generated strategy to guide you while you create your outline.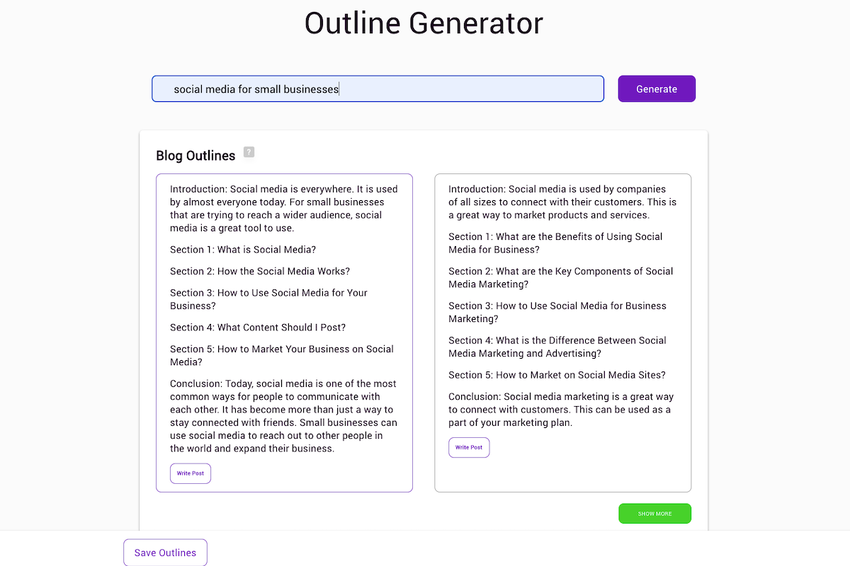 Image and Alt Text Generator
Whenever you write about anything on Bramework, you can explore royalty-free stock pictures that are suited and also will instantly appear in your article. You don't have to spend time creating alt text for the images on your blog.
Bramework's artificial intelligence will seamlessly insert all of the alt text in each picture based on your blog's target keywords. It helps you save time.
Title Generator
Allow this AI-based content creating tool to create your outline for your content so that you may write faster and with more focus.
The Title Generator from Bramework generates compelling blog posts or other contents titles that entice your readers to click and read more.
Simply enter the blog subject, and in a matter of seconds, you'll be presented with a list of relevant, snappy blog post names.
Plagiarism Checker
Plagiarism Checker is a powerful tool that not every AI-based waiting tool offers. The plagiarism checker tool helps to make sure the content is unique. Bramework includes Plagiarism Checker tools that will scan your content to detect copies.
It will even provide suggestions for modifications to your content in order to make it 100% unique. Although the results are not very satisfactory, it is relatively acceptable.
Content Optimization
SEO optimization or Content optimization is a notable feature of this tool.
Through this function, you can analyze your content to optimize. This function will recommend customizing several things to optimize the content. This feature will let you ensure your content is SEO friendly.
WordPress Integration
Bramework may be used in collaboration with any WordPress website. You may publish your blog entries straight from this tool to WordPress without having to go through any additional steps.
As a result, you won't have to go back to the website and manually copy and paste the text. Bramework allows you to accomplish all of your publishing tasks from one convenient interface.
Bramework Pricing
Bramework features a very Straightforward Pricing. It offers four plans for the customers; Basic, Starter, Professional, and Agency. All these plans come with the same features.
However, there are some limitations on AI-generated words and User seats.
With 10,000 AI-generated words and a single user seat, the basic plan is available at $19 per month. The starter plan is available at $49/month with two user seats and 40,000 words of AI-generated capability.
The professional package offers 100,000 words of AI-generated ability and has 4 user seats, and it will cost you $79 per month. In the agency plan, you will get unlimited AI-generated capability and 8 user seats for $199 per month.
Bramework Lifetime Deal
While Bramework comes with several pricing plans, it will cost you a lot in terms of long-term use. However, the tool is available on the AppSumo website with a lifetime deal at an affordable cost.
Appsumo is packed with high-quality digital items. Bramework is the most acceptable Appsumo lifetime bargain ever. In addition, the Bramework Appsumo lifelong deal offer might save you up to 97 percent.
So, if you are seeking a cost-effective solution for Bramework, then you should go for Bramework AppSumo Lifetime Deal.
Is Bramework worth it?
Bramework is certainly worth considering if you're searching for an elevated content writing tool that's simple to use and generates excellent outcomes. You'll be able to quickly write top-notch blog entries, articles, and more to do with its simple but powerful functionalities.
Although the tool lacks some of the more advanced capabilities found in paid content production tools, it more than constitutes for it in terms of performance and simplicity of use.
Overall, I believe Bramework is an excellent content creation tool, and you can receive lifetime access throughout this particular deal.
Bramework Pros and Cons
Pros
This AI writing tool comes with an easy-to-use interface
It includes a lot of exclusive features and functions
This tool will help you to discover powerful keywords
It lets the users find images and check plagiarism
This tool is highly compatible with WordPress Website
Cons
Bramework AI writing tool has no free plan available
Need to improve the AI writing and Keyword function
Bramework Alternatives
While Bramework is an excellent tool for AI writing and SEO, there seem to be a few more options to consider. So, let's take a look at some of the best Bramework alternatives.
Frase
Frase.io has built its own AI from the ground up, adopting a radically different strategy than the rest of the AI business. As a result, they're attempting to create something distinctive. As a result, every one of their users may create material that is unique as well as based on individual AI.
Jasper
Jasper AI is a cutting-edge AI-powered robotic writer that can select material 5 times quicker than a human copywriter. Using Jasper AI, you'll get 100 percent unique material that's free of plagiarism and well-written. In addition, you will get pre-written templates for particular categories.
Conversion.ai
Conversion.ai is another option, and it has chosen the third method of absorbing tiny businesses. This technology has been able to buy AI firms in order to collect as much information as possible. They will be able to provide excellent benefits to all of their users thanks to the tool so that their users may provide excellent material to their readers.
Final Thoughts
Bramework is a prominent tool for optimizing your content. There is no difficulty navigating via the app's UI, and it offers excellent content support. It has enabled me to spend more time on the content marketing approach as a result of this arrangement.
Bramework increases the productivity of content marketers and SEO specialists by providing them with a more efficient method of creating content. Using Bramework, you can devote your time and energy to generating excellent content.