Are you looking for the best lead generation tools that can help you generate leads for your business?
If yes, then, you're on the right place.
Lead generation is definitely one of the most important aspects of marketing for any business. If you can generate more leads, you will be able to get more clients.
You can generate leads using different methods but the problem is that most of these methods are not very reliable.
A lead generation app can be very useful for this purpose. There are a lot of apps on the market, but which one is the best and most cost-effective? This blog will look at some of the best lead generation tools in March 2023.
Best Lead Generation Tools in March 2023
1. Closely
If you are a corporate employee or business professional, you must know how a well-polished Linkedin profile leaves an impact on hiring managers or recruiters. It's a great platform for lead generation and getting connected with relevant experienced professionals. However, you may find lead generations based on job, title or country tough but there's a tool that can make things easy.
Closely is a cloud based lead-generating platform for Linkedin that helps to search for leads based on your field, import email contacts to send connection requests, launch Linkedin campaigns and create follow-ups.
What's special about Closely? Let's look at its features.
Closely incorporates features like Find prospects' emails and LinkedIn URLs from stocked library database, automated connection requests & follow up, built-in templates and variables, smart embedded inbox, human-like behavior of automation algorithms , sync & manage multiple accounts, live chat support, and so on.
Who Can Benefit From Closely?
Sales team, corporate employee, business professionals, event manager etc. who need to find leads in their relevant field for launching Linkedin campaigns and follow-ups.
2. LeadRocks
If you are starting something new such as a company or a new business or even a new job in a remote area, you must be looking for local lead persons' contact for queries or suggestions. But getting personal contact information might be tough sometimes.
That's where LeadRocks come!
LeadRocks will provide you with a complete contact database for your prospecting needs and better business growth.
LeadRocks is a highly reliable B2B contact database where you can search lead contacts (phone number, email, Linkedin profile) based on your job title, location, company name or other prospective needs.
Wanna learn more about LeadRocks? Let's see what's more.
LeadRocks incorporates features like a huge stock of 100M+ database of B2B contacts, search by job title, company name, location or URL, storage of contact information, export of found data, online customer service and live chat.
LeadRocks is continuously updating their contact lists and other information to gear up your requirements.
Who Can Benefit From LeadRocks?
New business owner, startup or entrepreneur who needs to contact with corresponding lead persons in their field for relevant queries and suggestions.
3. Lead Scrape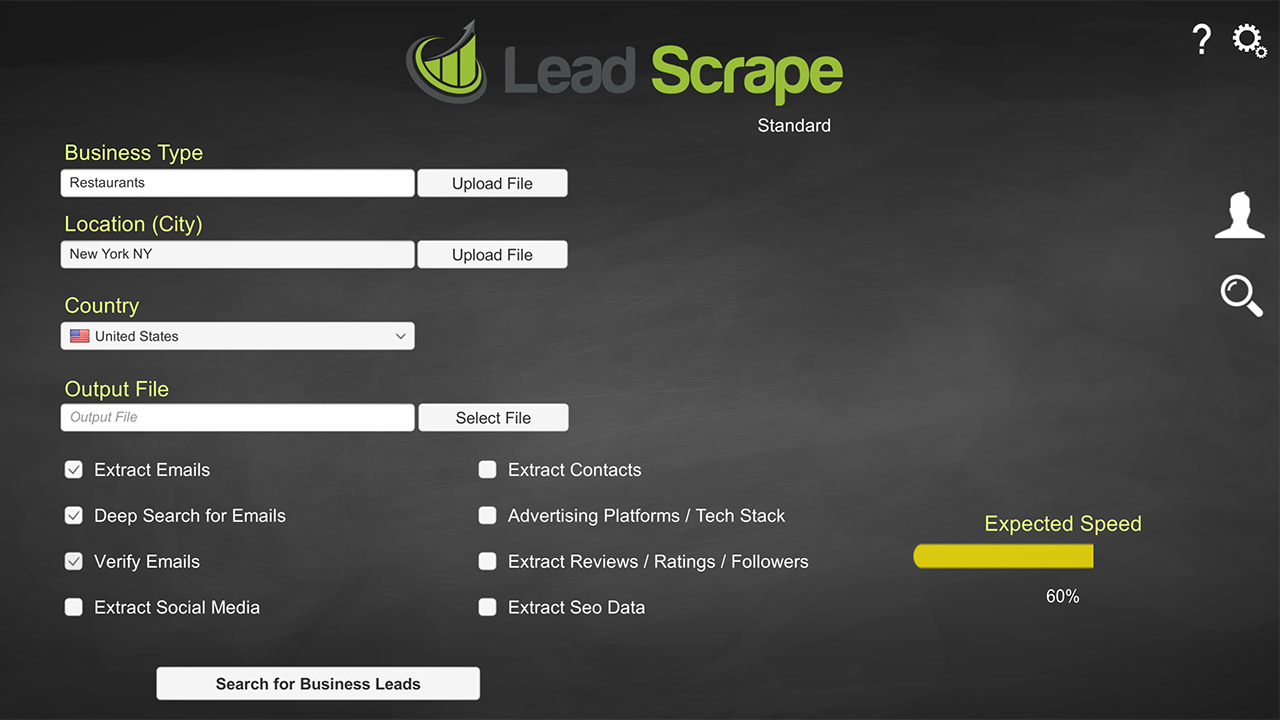 Lead Scrape helps you find B2B leads in any category. For each lead you can get the business name, address, phone, website, email, contact name, social media properties, Seo data, lat/long and more!
Search for leads based on their job title or get a list of people working in a company.
In today's digital marketing era, every company needs a constant flow of new leads to be able to find new customers. Lead Scrape makes the process easier and more efficient.
Their software will deliver data in CSV format and can be imported into any lead tracking software and marketing automation tool you are currently using for your pipeline management.
How great would it be if you could capture thousands of business leads within a few simple clicks?
Who Can Benefit From LeadScrape?
Marketers looking to generate leads for their business
4. Tomba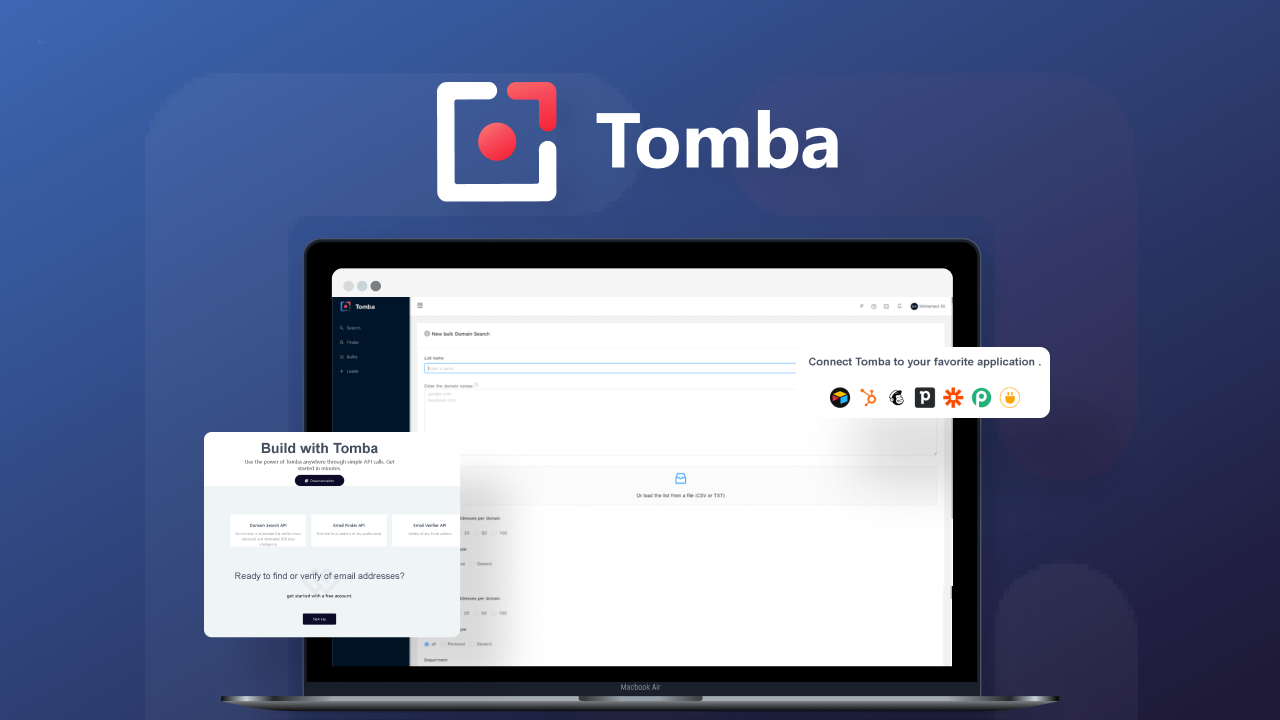 You have a service to offer to a company whom you think will be interested in your offer and really want to reach out.
Only problem is you don't have the contact info for anyone who works there.
You search online but can't find anyone who works there.
That sounds pretty disappointing, right?
What if there was an easy way for you to find professional email addresses from any website in seconds so you could connect with the people that matter for your business?
Introducing Tomba.
Imagine capturing a dozen qualified business leads with a single click!
5. LeadClosure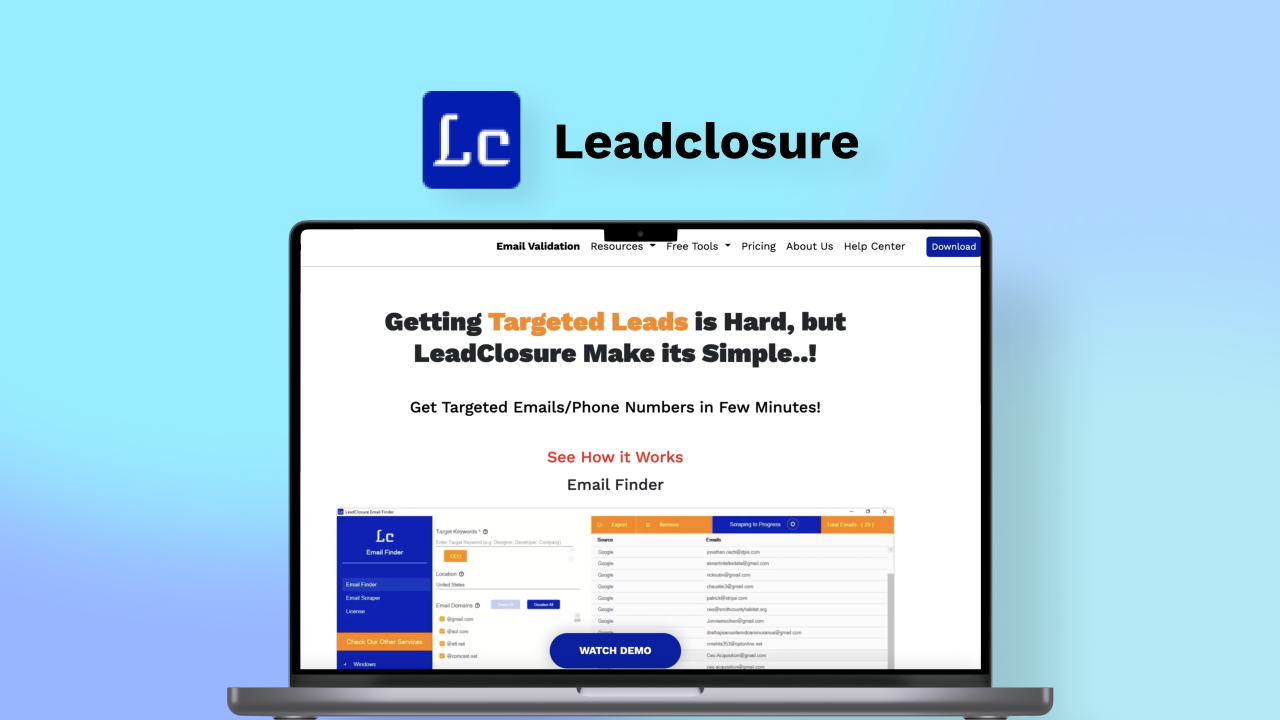 Getting targeted leads is hard, but LeadClosure makes it simple!
Get targeted emails/phone numbers in just a few minutes.
This product is for anyone who wants unlimited emails & phone numbers without limitations.
LeadClosure offers quick and powerful support for generating leads. It is an effective contact gathering tool for sales & marketing.
LeadClosure makes this a game of just a few clicks. The list of your desired emails and phone numbers will be right there before you within a few clicks.
Get access to unlimited emails and phone numbers directly from the leading search engines, such as Google and Bing.
Extract data from various targeted locations and targeted keywords. With lifetime access to the software, you can extract unlimited data.
It offers a huge set of hyper-segmented leads that are enough to boost your sale conversions. It's fast and efficient, plus it generates reliable leads within a few seconds, thus saving you time and money.
Are you ready to reach your target audience within a few clicks?
Final Thought
Choosing the right lead generation tool for your business is important to gaining new customers or clients. There are so many lead generation tools to choose from, but which are the best? We hope this article has helped you figure out which one is right for you!
If you wanna supercharge your business faster, Bookmark this page and grab the best lead generation tools when you are on a budget.
Please leave a comment if you wanna add something more to this content and feel free to share this article with your friends.